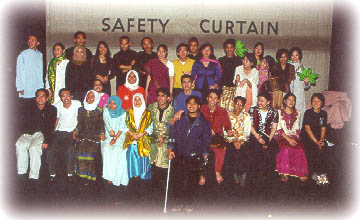 The cast of Gemilang 2000
click to enlarge (154kb)

Intro : "Pencak Silat" by Adzim, Khalid, Suriati, Akbar & Harris

One day, an evil woman (Kate) killed Bawang Putih's
mother (Joanne) while her husband was away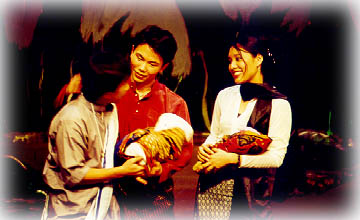 The merchant (Top) soon married the evil woman (Kate),
not knowing that she was the one who killed his late wife.
One day, his son Iskandar (Derek) found out that she was
his mother's killer and he then tried to kill his stepmom.
Unfortunately his father was killed while protecting her.
Iskandar ran away, leaving his baby sister, Bawang Putih.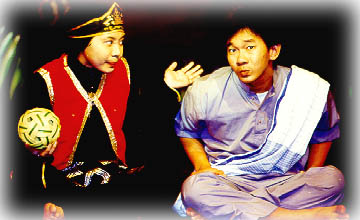 Iskandar was later adopted by the King and became the best
friend of young Prince Alauddin, the heir to the throne.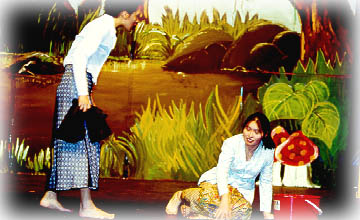 Bawang Putih (Jennifer) was raised by her evil stepmom who was
never kind to her. She was forced to do all household chores while
Bawang Merah, her stepmom's birthchild, was treated like a princess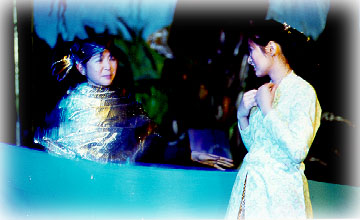 Whenever Bawang Putih felt sad or lonely, she
would talk to her friend, Kalong the Fish (Joanne).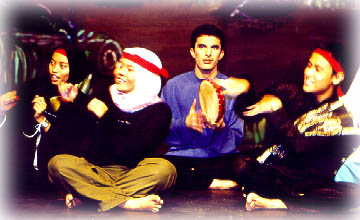 One fine morning, the Prince & Iskandar watched a
"dikir barat" show, performed at the market.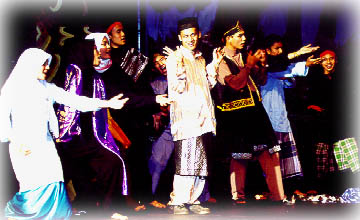 The Prince saw Bawang Putih for the first time, but only from
a distance. Fascinated at the beauty of Bawang Putih,
everyone at the market sang "Gadis Misteri" to her.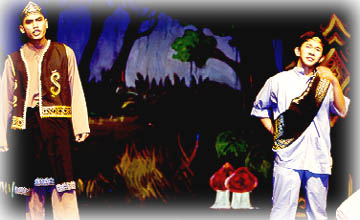 The Prince, Iskandar & Bawang Putih
sang the theme song for Gemilang 2000 :
"Maybe Tomorrow" (composed by Nadiah)

After knowing that Bawang Putih was spending a lot of
time with the fish instead of doing household
chores, the evil stepmom killed the fish.

The bones of the fish then turned into a tree and its veins
became a swing which Bawang Putih could sit on.
She started singing. Her lovely voice was heard by the Prince. When
she realized that someone was looking for her, she quickly
returned home. The prince kept on looking for the girl . . .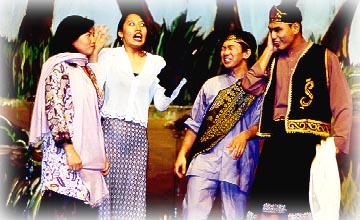 The Prince later came across a house where the evil woman lived.
Bawang Merah claimed that the lovely voice was hers but she failed
to convince the Prince when she was asked to sing once more.

Then Bawang Putih appeared. He remembered seeing her
at the market the other day. He invited her to attend
a ball that would be held at the palace.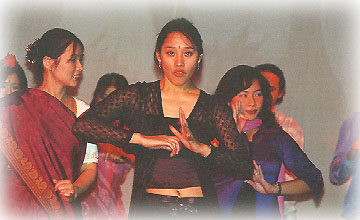 At the palace, during a Hindi dance performance, the evil stepmom
put a love spell on the Prince for her daughter, Bawang Merah.
True love won : the spell did not work !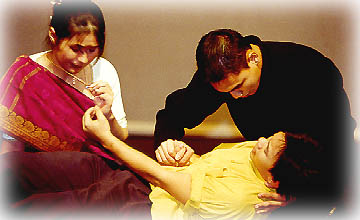 The evil stepmom tried to kill Bawang Putih but Iskandar
killed her first before he himself was killed. Only then he
found out that Bawang Putih was his long-lost sister.
The Prince and Bawang Putih then
lived happily ever after . . .
THE END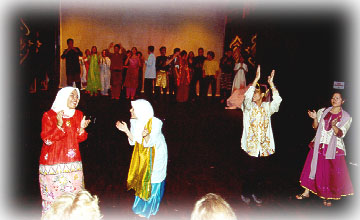 The Grand Finale : Joget "Hati Kama" & "Ada"
performed by the entire crew of Gemilang 2000


Bawang Putih
Jennifer Yong

Prince Alauddin
Baharuddin Ismail

Iskandar
Derek Lim

Evil stepmom
Kate Lee

Bawang Merah
Norlindah Taib

Kalong the Fish
Joanne Ling

The Merchant
P.Jittrapirom
also featuring
The storyteller
Sunil Ratti

The gangsters
Ching Soon Tee
Raymond Fong

Young Prince Alauddin
Zakiah Sulaiman

Magic tree
Serena Choo
Amanda Khoo

Prince's bodyguards
Akbar Abu Seman
Abdul Adzim Abdul Rahim
The Dancers
Intro : The Dance of Time
Pongtip Puvacharoen
Duangrat Gansawat
Wong Hui Ching
Raymond Fong
Amanda Khoo
Serena Choo
Joanne Ling
Kate Lee

Tarian Lilin
Norlindah Taib
Indriani Sebastian

Dikir barat &
"Gadis Misteri" a capella
Ching Soon Tee
Akbar Abu Seman
Mohd Abdul Khalid
Khairul Nizam Omar
Mohd Harris Rajudin
Abdul Adzim Abdul Rahim
Tariq Ziyad Abdul Rahman
Mohd Shazwan Shuhaimen
Nadiah Hanim Abdul Latif
Indriani Sebastian
Zakiah Sulaiman
Suriati Sulong
Suria Hashim

Pencak Silat
Suriati Sulong
Mohd Abd Khalid
Akbar Abu Seman
Mohd Harris Rajudin
Abd Adzim Abd Rahim

Classical Indian Dance
Prajakta Katariya

Timang Burung
Nadiah Hanim Abdul Latif
Siti Aida Fitri Abdul Khalid
Suria Hashim

Hindi Dance
Raymond Fong
Akbar Abu Seman
Mohd Abdul Khalid
Mohd Harris Rajudin
Khairul Nizam Omar
Abd Adzim Abd Rahim
Pongtip Puvacharoen
Duangrat Gansawat
Wong Hui Ching
Amanda Khoo
Serena Choo
Joanne Ling
Joget "Hati Kama" & "Ada"
performed by
the entire cast of Gemilang 2000
The Lion Dance Troop courtesy of
The Chinese Society
University of Bristol
Theme Song : " Maybe Tomorrow "
Original composition, lyrics & piano arrangement by
Nadiah Hanim Abdul Latif
performed by
Jennifer Yong, Baharuddin Ismail & Derek Lim
violin by
Clara Chua & Daniel Hew
Technical & Administrative Crew
Director
Siti Aida Fitri Abdul Khalid

Co-director
Suria Hashim

Associate producer
Nadiah Hanim Abdul Latif

Choreographer
Nadiah Hanim Abdul Latif

Ticketing, finance & souvenir
Suriati Sulong

Programme book
& artistic director
Mohd Shazwan Shuhaimen

Photography
Foo Sze Ern

Front house manager
Hassan al-Banna Nawawi

Technical & stage managers
Shahril Khalid
Ching Soon Tee
Tariq Ziyad

Costume & make-up
Suria Hashim

Publicity & printing
Khairul Nizam Omar

Catering
Baharuddin Ismail

Catering assistants
Ong Wee Jen
Liew Kui Ping
Ching Kang
Clara Chua
Daniel Hew